Powering Chicago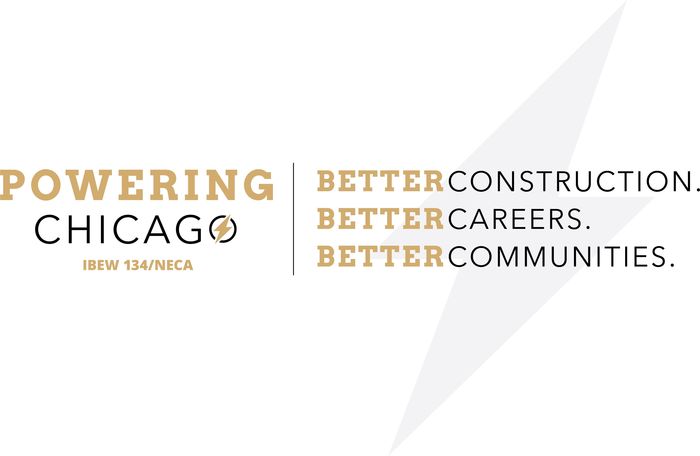 Powered by Safety, Powered by Training, Powered by Reliability
LMCC/Chicago is an innovative labor-management partnership between the International Brotherhood of Electrical Workers (IBEW), Local 134 and the Electrical Contractors' Association (ECA) of City of Chicago. For more than 100 years, our organizations have worked together to encourage communication and cooperation between labor and management, establish the highest standards of safety and expertise in our industry, and to promote the union electrical industry in the Chicago region.
In 2019, the LMCC rebranded as POWERING CHICAGO, which aims to promote the IBEW 134 and NECA Chicago workforce, as the only choice for electrical construction. The workforce behind the signatory electrical contractors of the City of Chicago and IBEW Local 134 is among the most highly skilled, efficient, and safest in the nation. If you want your project completed on time, within budget, and have the highest quality installation available today, choose a NECA Chicago / IBEW Local 134 signatory contractor to get the job done!
Visit POWERING CHICAGO online to learn about the latest projects happening around the city, and how our workforce is finding innovative ways and utilizing break-through technology to produce an advanced end product.
You can also read out how the contractors and electricians give back to Chicago! POWERING CHICAGO takes part in over 100 charitable activities each year, and plays a major role in rebuilding Chicago neighborhoods and giving back to the communities in which they live and work.
Follow POWERING CHICAGO on its social media channels:




Recent News:
See how the electrical contractors and skilled IBEW Local 134 electricians of "POWERING CHICAGO" build this city and give back to it's community, on this season of "Built to Last".
Built to Last®, which was nominated in 2018 for an Emmy for "Outstanding Achievement for Magazine Programming" by the Midwest Chapter of The National Academy of Television Arts and Sciences and has returned for its
sixth season on May 5, 2019!

Starting with the name itself Built to Last® means enduring quality, and season 6 will spotlight how skilled labor sets the benchmark for performance training, safety best practices and industry leading productivity, making it the smart choice for creating partnerships. Season 6 will captivate audiences as it moves across arresting projects and fascinating individuals that collectively exemplify the real-world contributions that organized labor makes toward our communities. The show will also strive to showcase public and private economic developments and partnerships, and a dedication to the building industry.